Turning your concepts into reality
2D & 3D CNC Routing Services Melbourne
Bespoke creation for eness illuminated seesaw
Bespoke creations for new shop fit-out
Attention to Detail
Branchflowers CNC prides ourselves on constantly delivering a finished product that has been handled with precision and care. No detail is overlooked.
Prompt Quote Process
At Branchflowers CNC, we understand the importance of being efficient and providing a quote promptly. We will normally provide a quote within 2 days.
Customer Service
We are all about maintaining long term relationships with our clients and thus we go above and beyond to not only meet, but to exceed your expectations.

About Branchflowers CNC
Branchflowers CNC Routing in Melbourne (Est.2008) provide a 2D and 3D CNC cutting and routing service that is that is second to none and dedicated to your requirements. Our standards are extremely high, our pricing is amongst the most competitive you will find and our flexibility is unrivalled.
Read More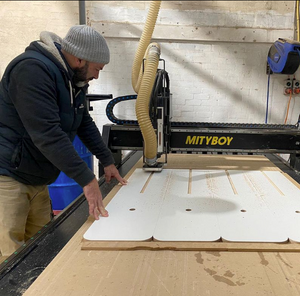 FAQ's
CNC vs Laser
Laser has to be cut through all the way and tends to burn the edges of the material. CNC cutting, however, can cut into a material as deep or as shallow as you want, leaving only smooth, defined edges or hollowed out sections.
How Branchflowers Can Help
Builders + Cabinet Makers
Business Signage
Shop Fitters
Furniture Manufacturers
Bespoke Design
Automotive Fit-Out
Take a look and explore the diverse range of projects we work on
What our clients have to say about us
Chris did an amazing job...he was patient, accommodating, and detailed. I can't recommend him enough.

★ ★ ★ ★ ★

Stephen P.
Amazing to deal with and the only company we've found in Victoria that does exact, professional CNC work.

★ ★ ★ ★ ★

Achtung Camper
Very easy to deal with and parts cut were very accurate. Also pricing wad on point! Very happy.

★ ★ ★ ★ ★

Marsh Duffield
Featured Products
We have designed and manufactured a range of furniture made with locally sourced materials. Our range is designed to be portable, easy to assemble, sturdy and sleek in design.